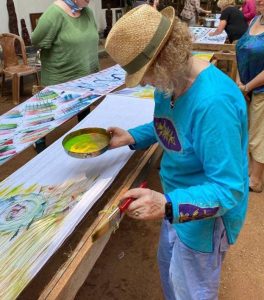 Hello from Wicklow Marketplace, I am an artist, designer, maker and educator  I work mainly in textiles and water colours. My inspiration  comes from my travels and the natural world and the colours and textures I encounter there.
I spent February 2020 in Beypore in India printing and dyeing textiles Textiles give me the flexibility to incorporate lots of other mediums in my work. In water colour painting  I enjoy the delicacy and translucency of the paint. Facilitating workshops and inspiring others to create is an integral part of my practice.
Silk is the main material used in my crafts but I also like to use cotton and recycled materials. I dye and/or paint my fabrics before I make them into my product. I sell my range of silk scarves, bags, artworks, home textiles and handmade textile cards here and also at Crafty Craic in the Glen of Imaal, where I also run some amazing craft workshops.
Working towards my Solo Exhibition
My bags and bracelets are made from pieces of fabrics that I have already dyed and stitched on for other textile projects. I like to recycle materials. Some buttons come from my mother's button box which I inherited and some are bought to enhance a particular piece.
The scarves are 100 per cent silk and dyed with procion dyes. I love colour and am inspired by what I see around me at a given time. The blues and greens are inspired by the Irish landscape, the warmer colours and shapes come from the African landscape.
The shapes on the scarves are from wood blocks my son made for me and the process is called itajime dyeing and comes from Japan.
I don't concentrate on one medium alone. The painting will begin again in August, it is the one thing I do that keeps me calm and focused. Visit my website https://maevieh.wixsite.com/maeve-hunter to find out more information on workshops and exhibitions and my online stall https://wicklowmarketplace.ie/stalls/mae-art-ed/ to buy handed silk scarves, bags and cards. See you next time. Maeve