Stun Bunzs
Myself (Gemma) and Patrick have been friends since 2006, knowing each other longer then not knowing each other.
In 2015 I was involved in a bad accident and while I was in hospital Patrick made me a Get Well card with a drawing of a rabbit. Everyone used to comment about his drawing when they were visiting me. When I got home we joked about starting a business making cards. The more we joked the more we talked about actually starting a quirky card business.
The more we joked the more we talked about actually starting a quirky card business.
Christmas 2017 we first sat down and came up with 2 Christmas designs. 2018 and 2019 we only worked on Stun Bunzs as a hobby not really knowing what direction to go with it.
Slowing Down to Create
In 2020 Covid hit and made the world slow down giving us time to think draw up a plan and a direction to go in.
Giving us time to sit down and draw up new designs and creating our space on Wicklow Market Place. Online websites have been a massive help to a small business like us to getting our name out there specially went in the lock downs and craft fairs and shops were closed.
We have notice a big increase of interest in the Irish market to buy Irish and support small Irish businesses.
100% Irish Made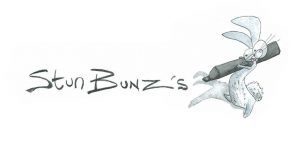 We are delighted to say we are a 100% Irish business. Our cards are made at my (Gemma) family home kitchen table on the Carlow\Wicklow boarder. Patrick is the artist while I came up with the ideas for Patrick to draw and watercolour.
We both fold the cards and pick which colour envelope to go with each card. I (Gemma) package up all the orders.
Bespoke Illustrations
We also offer BESPOKE cards where we can personalise a greeting card. We are more than just a hobby we are a passion project for us both. We are delighted to think we are making people smile when they open an envelope.
Visit our online stall
here
and if you want a BESPOKE card don't hesitate to email.
The possibilities are endless.