Karen Ryan Allison
I am delighted to get the opportunity to introduce myself and the work I do,  to the greater audience of Wicklow Marketplace. I have been a part of this collective since the day it launched and have enjoyed meeting all the other crafters of County Wicklow. I began making and selling candles after the birth of my first child and loved it, but had to put it on the back burner when my husband and I bought a shop and post office in the beautiful Glen of Imaal. 
Where it all started

I later got to return to candle making and headed off to Wales to learn from David Constable.  David is famous for making candles for The Harry Potter films and more recently the TV series Game of Thrones.  I then took a studio at Russborough House outside Blessington and began to work full-time as a candle maker selling my wares from my studio and teaching interested people.
Several years later and I am delighted to be working back at my shop in Knockanarrigan.  I opened the craft shop over 2 years ago as I realised the space I have is unique and my location is so beautiful.  The opportunity my studio gave to display the work of fulltime artisans and to be in a position to provide a workshop space for the teaching of so many disciplines of crafts spurred me on to set up what is now Crafty Craic.
Where I am now
I am so lucky to be situated at the base of Lugnaquilla mountain, which provides the most stunning backdrop to everyday life and to work everyday looking out on one of the most spectacular views in the country is a privilege and something I am always grateful for.
Running the craft shop with over 20 local full-time makers keeps me busy and motivated and I am always in awe of the talent and professionalism of everyone involved.
…to be in a position to provide a workshop space for the teaching of so many disciplines of crafts spurred me on to set up what is now Crafty Craic.
Creating a craft culture
This year I opened a classroom with all the facilities to teach in a comfortable and relaxed atmosphere.  There are now tutors in Basket weaving, shoe making, Batik and other disciplines holding classes and courses. The classes are growing all the time with upcoming ceramics and botanical plaster art coming soon.
I work in my shop from Wednesday to Sunday, March to December and love meeting all the customers looking for something special, something with a story as that special gift.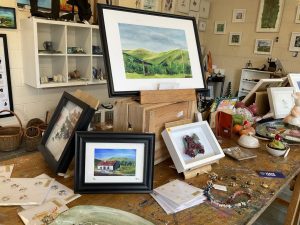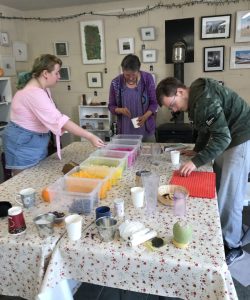 Where to buy my hand poured candles
My hand-poured candles are created onsite at Crafty Craic in the Glen of Imaal County Wicklow. They are available to buy from me directly at the shop or online with Wicklow Marketplace. It a minimum of 3 candles per order due to postage, I also deliver locally or you can avail of Click & Collect from the shop.
Handmade soaps
I have explored the art of soap making with ???? in ???? I hope you enjoy my new collection recently added to the Crafty Craic range online and offline, seen here.Handmade cold pressed Nettle and lavender soap. The nettle is home grown and the Lavender is the best quality essential oils. The soap is palm free and vegan.
For more information or if you would like to book a workshop through my website CraftyCraic.ie or visit my online stall here